Finnish traditional Christmas dinner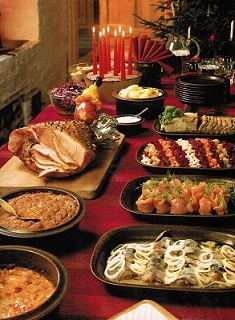 Finns do honor their traditions. The traditional Christmas dinner is a prime example of such time-honored tradition. No Finn would even dream of celebrate the Christmas in the non-traditional way. Even the youngest children know what belongs to Christmas. The sights, smells and tasted create a unique atmosphere well-loved by everyone.
Christmas Ham
Everything centers around the Christmas ham. The large ham usually bakes in the oven overnight filling the house with the unmistakable smell of the celebration.
Rutabaga bake
The usual companion of the ham is the rutabaga bake. Warm, tender and slightly spicy, in brings off the taste of the ham.
Red beet salad or Rosolli
The red beet salad brings a sour pickle note to the table.

Gingerbread cookies
The unquestionable favourite of all children are the gingerbread cookies. And who knows, what do the children love more - to cut the dough with cookie cutters, decorate or sample the ready cookies?