EasyMenu 3
EasyMenu is an application which stores your recipes, plans menus for any number of days or weeks, as well as generates shopping lists. The menu planner allows to plan your menu manually, or generate a random balanced menu, or anything in between!
This saves a lot of time, money and effort. It is also environmentally friendly, because it reduces the amount of food thrown away.
Main features of EasyMenu 3
Cookbook with advanced search by name, ingredients or tags
Menu planner is available on both computers and mobile devices (iPhone, iPad or Android)
New recipes are easy to add and edit
Add your own ingredients
Add new or edit existing menus
Menu can be generated randomly or edited manually
Menu for any number of days or weeks
Ready menu and recipe description can be printed
Shopping list for the ready menu is automatically generated
You can set the units of measurements for groceries - e.g. grams, oz, pieces or packs as desired
Detailed summary page for each menu
Offline access to recipes, menus and shopping lists
EasyMenu 3 is free, but if you want to add your own recipes you will need to purchase a subscription. The subscription price can be viewed in the user profile "My subscription". The price of a full subscription is € 14 euros for 6 months. New version will be free for six months for already registered users of EasyMenu 2.0. Your recipes and menus will also be available later, but you can add new ones only after subscription.
How to access EasyMenu 3?
EasyMenu is available at
https://app.easy-menu.io
. To get free access, you just need to register (Sign Up link) in the login window.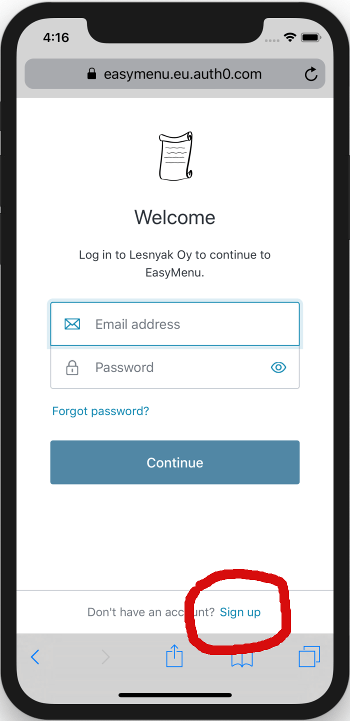 How to install the application on a computer?
How to install the application on a mobile phone / tablet?
iPhone/iPad
:
Open the link in Safari browser https://app.easy-menu.io
Log in
Click on the "Share" button
Click on "Add to Home Screen"
Click on "Add"
Android
:
Any suggestions or comments can be sent by email
support@easy-menu.io
or alternatively you can fill out the support form on
Support page
.